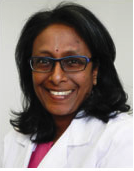 Dr. Mala Balakumar, M.D., FACS, FASCRS, Vice Chair of the CME committee of ASCRS, joins our Garden City practice after 7 years of private practice in New Rochelle, NY and was the Division Chair of Colorectal Surgery at Sound Shore Medical Center of Westchester. Dr. Balakumar is certified by the American Board of Colon and Rectal Surgery and the American Society of Colon and Rectal Surgeons and the American College of Surgeons. Dr. Balakumar is a colon and rectal surgeon with the expertise you deserve. Contact our Garden City or East Setauket offices today to learn more.
Education
Receiving her medical degree from the University of Minnesota and completing her surgical internship and residency in New York at NYU, Bellevue, VA hospitals in Manhattan and New York Hospital in Queens, Dr. Balakumar went on to complete her Colon and Rectal Surgery fellowship at the University of Illinois College of Medicine and has completed a clinical fellowship in endorectal ultrasound and anorectal physiology/manometry at Memorial Sloan Kettering.
Experience
Dr. Balakumar has served as Assistant Clinical Professor for Surgery at Mount Sinai Medical Center in Manhattan. She has also served as the Division Chief of Colorectal Surgery and preceptor for medical students at Montefiore-New Rochelle.
Dr. Balakumar is dedicated to promoting the understanding of colorectal issues and disease throughout the community and remains very active in numerous programs and health events.