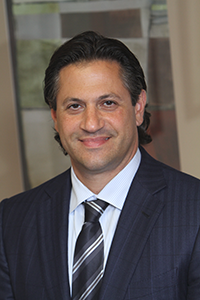 Certified by the American Board of Surgery and the American Board of Colon and Rectal Surgeons, Dean Paul Pappas, MD is a highly skilled and experienced colorectal surgeon providing comprehensive care at his practice in Garden City, New York. Dr. Pappas serves as Senior Vice President of the Mount Sinai Health Network and is the Chief of Colon and Rectal Surgery at Mount Sinai South Nassau. Dr. Pappas was named a Clinical Assistant Professor in the Department of Surgery at SUNY Stony Brook due to his contributions and dedication to medical education.
Educational Background
Dr. Pappas received his medical degree from the SUNY Stony Brook School of Medicine, where he also completed his residency training in General Surgery, serving as Chief Resident during his final year. Dr. Pappas was a member of the Alpha Omega Alpha Medical Honor Society and recipient of the Outstanding Resident Faculty Award during his training at SUNY Stony Brook.
Continued Education
Dedicated to furthering his knowledge, Dr. Pappas also completed a fellowship in Colon and Rectal Surgery at the Orlando Regional Medical Center. Specialized training combined with two decades of experience has provided Dr. Pappas advanced expertise in all aspects of colon and rectal surgery, including advanced colon resection and other procedures that can be performed using laparoscopic and robotic techniques, and comprehensive management of all anal and rectal disease. Moreover, Dr. Pappas holds a MBA degree to allow him to effectively navigate CRSSNY through the ongoing changes in healthcare.