Expert Hemorrhoid Treatment
Effective Treatment for Hemorrhoids
Hemorrhoids are small cushions within and around the anus which are a normal part of our anatomy. When they become irritated and swollen, hemorrhoids can cause pain and a variety of other symptoms. In most cases, hemorrhoids and their symptoms can be can be treated without surgery. At Colon & Rectal Surgical Specialists of New York, we provide a comfortable, private environment for our patients while we treat hemorrhoids and other colorectal conditions. To learn whether your symptoms are the results of hemorrhoids, contact our Long Island practice.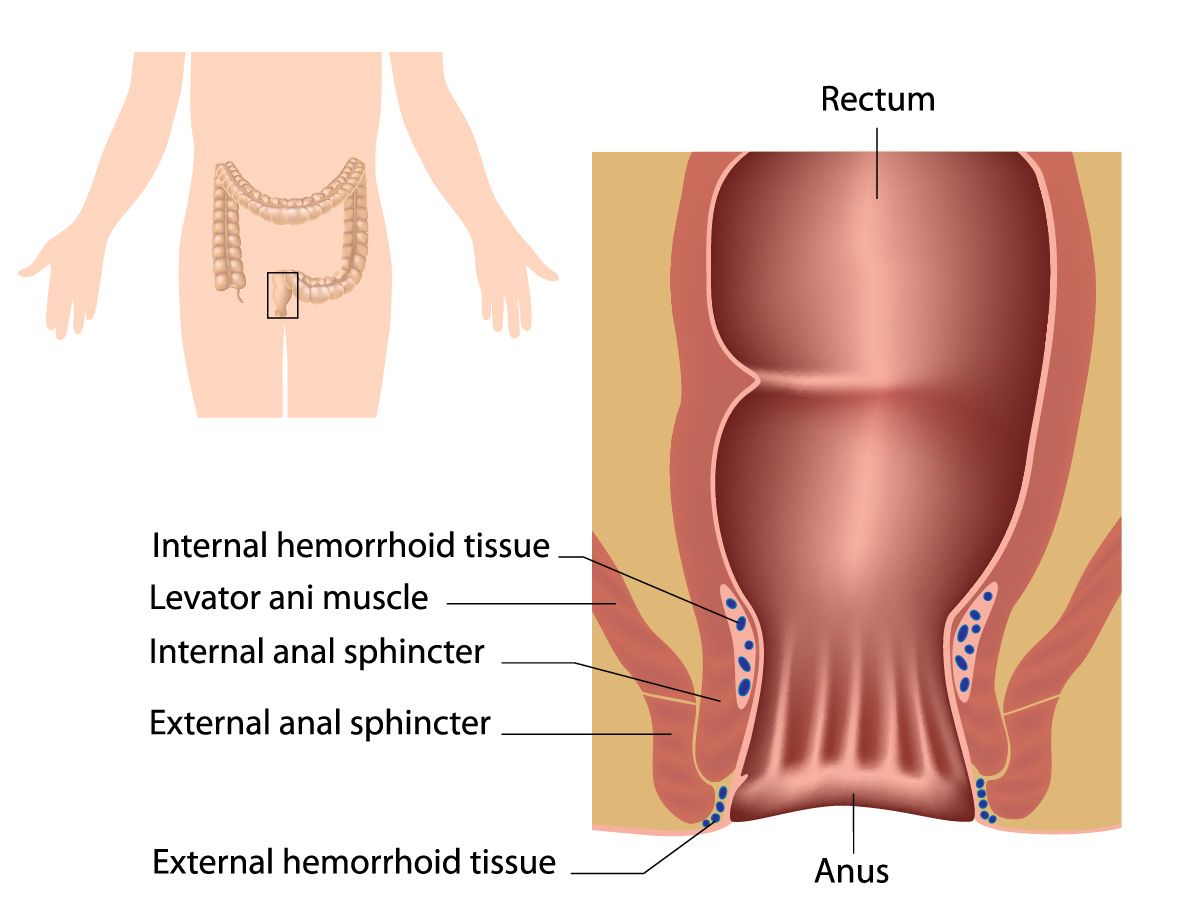 What Are Hemorrhoids?
Hemorrhoids form in the network of veins that surround the anus. This area is covered by delicate, sensitive skin. Also known as piles, hemorrhoids can exist either externally or internally. Internal hemorrhoids exist within the anus, while external hemorrhoids are visible on the edge or outside of the anus. External hemorrhoids typically result in itching, burning, and pain. Internal hemorrhoids are frequently responsible for painless bleeding.
What Causes Hemorrhoids?
Hemorrhoids are caused by pressure in the veins surrounding the anus. More than 70 percent of our patients are diagnosed with hemorrhoids at one time or another. Pressure can result because of many factors, including:
Diarrhea
Pregnancy
Constipation
Obesity
Strained coughing
Genetics
Prolonged sitting
Heavy lifting
A number of conditions, including infection, cancer, and inflammatory bowel disease (IBD), mimic hemorrhoids. Our advanced diagnostic tools can identify the precise cause of your symptoms. We offer a range of treatments to provide relief and reduce or eliminate hemorrhoids.
How are Hemorrhoids Treated?
Before hemorrhoid diagnosis, we will conduct a thorough examination to rule out underlying factors or contributing complications. Our CRSSNY doctors will determine what type of treatment, surgical or non-surgical, is best for your needs.
For mild to moderate hemorrhoids, we suggest warms baths and specialized creams and lotions. Depending on the patient's needs, diet changes, suppositories, and over-the-counter medications can also help relieve symptoms. If hemorrhoids must be treated surgically, we offer several minimally invasive options:
Injection Sclerotherapy - The intentional shrinking of the inner lining of the veins surrounding the anus, combined with pressure, causes the veins to stick together and can stop their swelling and irritation.
Infrared Coagulation (IRC) - Intentional scarring caused by a heating instrument blocks the blood supply from reaching hemorrhoids which causes the hemorrhoids to shrink and stops the bleeding.
Hemorrhoidal ligation - The use of rubber bands to cut off the supply of blood to hemorrhoids which cause the internal hemorrhoids to dramatically reduce in size.
Hemorrhoidectomy - The surgical removal of hemorrhoids may be recommended if less invasive solutions fail.
In-office procedures are performed in a comfortable, private setting. Often, our patients receive almost immediate relief from their symptoms. For most patients, hemorrhoids clear up in one to two weeks.
Schedule a Consultation
If you are suffering with hemorrhoid pain, we offer a range of options to help you regain your comfort. Our advanced diagnostics and treatments are designed to help you achieve and maintain colorectal health. Contact CRSSNY today to learn more.