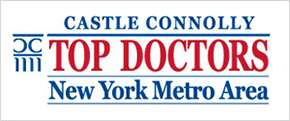 BY FRANK CALIENDO M.D.
The team at Colon & Rectal Surgical Specialists of New York is always committed to patient wellness and comfort. This focus on health and long-term wellness is what has made use some of the leading colorectal specialists on Long Island.
Dr. Dean Pappas and I are pleased to announce that we have been named 2016 Top Doctors by Castle Connolly in the specialty of colon and rectal surgery. This means that Dr. Pappas and I are among the most esteemed doctors in New York and the nation.
About Castle Conolly
Castle Connolly is a highly esteemed and respected organization that helps connect people in need of medical care with top-rated specialists in their area. One of Castle Connolly's most well known publications is the America's Top Doctors series, which involves a peer reviewed survey of leading medical specialists in the country. This updated list has been around for more than two decades.
To be named in this publication is a great honor, and one that means a lot to doctors and their peers as well as patients who are looking for different medical specialists.
The Nomination Process
The nomination process is the heart of the Castle Connolly Top Doctor honors.
In order to be named a Top Doctor, a peer must nominate you through Castle Connolly itself. This peer must be a licensed physician. Medical professionals are prohibited from nominating themselves for the award. Each year Castle Connolly receives nearly 100,000 peer nominations.
With all the nominations in, a physician-led research team then reviews each nominated physician. This team carefully considered the credentials of each nominee, noting education and training, board certifications, achievements in a respective field of medicine, and even malpractice claims filed against them. From this assessment of credentials, national and regional Top Doctors can be selected.
A Distinction Among Other Specialists
To be able to do something well that benefits others is an honor and privilege in itself. Yet there's something to be said about recognition from Castle Connolly. To be named a Top Doctor means we have achieved a level of distinction that is unique among our peers. They believe in us like our patients believe in us, and we hope to continue this high level of excellence for many years to come.
Exceptional Colon and Rectal Surgery on Long Island
Many of the Castle Connolly's Top Doctors in the field of colon and rectal surgery are based around New York City and the five boroughs. This is why our names being recognized is such an honor.
We believe strongly in helping people throughout Long Island with their health issues, and we feel that great medical care shouldn't just be in the NYC area. We have offices in Garden City, Setauket, and Great Neck, which allows countless patients to come to one of our offices in order to receive high-quality care and close attention.
What This Honor Means for Patients
For old patients and current patients, being name Top Doctor just underlines the type of care they've received: high-quality, patient-focused, with an emphasis on future wellness and patient education. For new patients and prospective patients, this Castle Connolly award can be seen as a seal of approval. Not only have we worked to improve the lives of patients, but our peers recognize this work we do and think we deserve to be honored for this.
Being named a Top Doctor isn't why we became medical professionals, but it humbles us to think that we can be awarded for helping people.
Contact Colon & Rectal Surgical Specialists of New York
To learn more about your treatment options when it comes to colorectal surgery and related matters, be sure to contact our colon and rectal surgery specialists today. The doctors will help you achieve wellness and look to the future with a renewed sense of health.